GXM1™ Sulphur Granulator
For decades, producers seeking a rugged, proven forming technology have turned to the GXM1™ for a more marketable, premium formed product. The GXM1™ process produces more tonnes per day than any other sulphur forming technology in the world. The GXM1™ is the most trusted and prolific forming method in the world accounting for over 50% of the total forming capacity worldwide.
The Enersul GXM1™ Granulation Unit exceeds compliance standards with industry accepted premium product specifications to ensure the optimum size, shape, hardness and internal moisture of granules for handling and storage. The produced granules are spherical, between 2-6 mm in diameter, hard, dry and free from voids and structural weakness.
---
---
GXM1™ Process
The GXM1™ process on top of being a safe, user friendly and industry proven process has also been engineered to minimize environmental emissions and impact.
Heat is absorbed from the solidifying Sulphur by the evaporation of water droplets and is removed from the GXM1™ drum by airflow. The exhaust air is cleaned in a wet scrubber to remove entrained Sulphur particles before being discharge to the atmosphere
A screening process separates undersized granules (<2mm) from the product size granules, which allows the undersized granules to be recycled to the drum inlet as seeds and the process is repeated. This feedback loop screening process ensures that no undersized granules exit the system and end up in the downstream storage.
A constant production rate is maintained by the process control system, which compares the actual Sulphur flow rate into the granulator against the production rate set point and adjusts the pump speed accordingly.
Sulphur granulation is a size enlargement process. Small sulphur seeds (undersized granules) are repeatedly coated with a liquid sulphur spray and cooled. With repeated application of liquid sulphur, the seed increases in volume and weight. As the granule is enlarged, each coating of liquid sulphur is fully and structurally bonded to the layer beneath. This creates a spherical granule which is entirely dry and completely free of voids.
---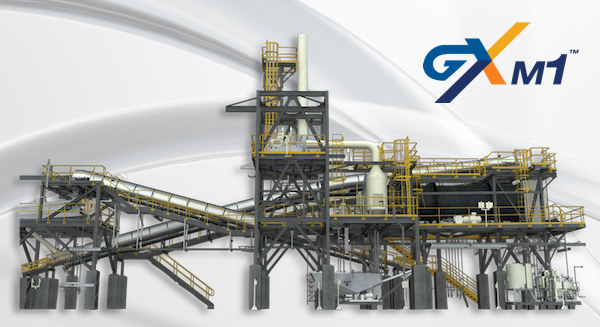 ---
Capacity: 1200 TPD
Dimensions:
Unit Length: 35.6 m
Unit Width: 11.0 m

Unit Height: 8.5 m
Bulk density( poured):  >1165 kg/m3

Bulk density (packed):  >1276 kg/m3
Angle of repose:  ≥ 25°C
Moisture: ≤ 0.5%
Friability
SUDIC Stress Level II:  <2%
(± 0.4% variation between tests)
177.6 kW Connected
142 kW Operating
4 bar g-35 kg/hr Steam
2.5-2.75 m3/h Water
Screen Size in Micron / Retained:
6300 / <5%
5600 / <25%
2880 / <75%
1180 / >98%
300 / > 99.5
---