WETPRILL™ SULPHUR FORMING PROCESS
The WetPrill™ forming process uses cooling water to solidify droplets of molten
sulphur introduced in a controlled manner at the top of a tank. This process has
been continuously refined and improved by Enersul through in-plant operational
development, in conjunction with a research pilot plant facility.
Enersul's WetPrill™ product is known for its low friability, low moisture content,
and high bulk density. This is due to the shape of the prill, which is small, round,
and uniform, with few entrained fines.
---
The WetPrill™ Forming Process
The WetPrill™

 process starts at the top of a forming tower where molten liquid Sulphur is pumped into perforated trays through which the sulphur flows.

The small droplets of the liquid sulphur fall into cooling water.

The cooling water causes the liquid sulphur to instantly form into uniform droplets which turn into pellets, maintained in suspension and allowed to harden.

The newly formed WetPrill

™

 pellets settle to the bottom of the pelletizing tank and flow by gravity to high frequency dewatering screens.

The sulphur pellets are of suitable product quality and can be easily handled and transported now for nearby stockpiling.

Process water is pumped through a heat exchanger to remove heat dissipated by the pellets and reused.
---
---
---
The WetPrill™ Product Family
Enersul's WetPrill™ sulphur formers have been a staple in Canadian operations since 1978 and used around the world.  This line offers a low-cost high-capacity alternative for producers wanting a top quality prilled product.
---
---
---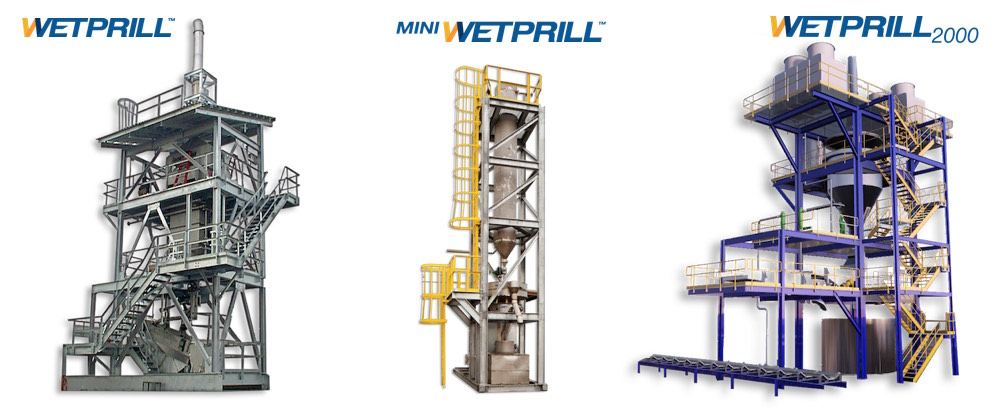 ---
Flowrate: 20-50 TPH (can be scaled up to 2500)
Pressure: 2.0 bar g
Temperature: 130 °C
Length: 7.5m
Width: 4.5m
Height: 12.8m
165 kW Connected
139 kW Operating
2 bar g-98 kg/hr Steam
2.7-3.0 m3/h Water
Flowrate: 25-50 TPH (can be scaled up to 2500)
Pressure: 2.0 bar g
Temperature: 130 °C
Length: 7.5m
Width: 4.5m
Height: 12.8m
177.6 kW Connected

142 kW Operating

4 bar g-35 kg/hr Steam

2.5-2.75 m3/h Water
Length: 11.5-14.3m
Width: 4.9m
Height: 8.5m
64 kW Connected
55 kW Connected
4 bar g-100 kg/hr Steam
0.9-1.1 m3/h Water